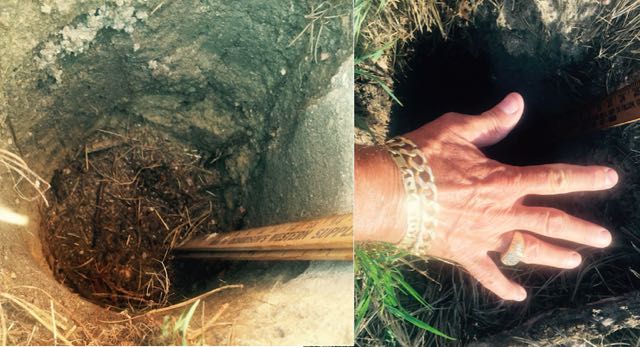 Private investigator Bobby Brown, known for tracking down fugitives with Duane "Dog" Chapman, found a "perfectly round hole" in the yard of his Colorado home and no signs about how it got there overnight or who dug it.
"This is absolutely a very mysterious perfectly round hole that appeared in my yard overnight," Brown, who was featured as a bail bondsmen on seven seasons of "Dog the Bounty Hunter," told Lead Stories. "I have been an investigator over four decades. This is a mystery beyond me."
Brown, who lives in a rural area north of Colorado Springs, noticed the uncovered hole just a few feet from his door. "The hole is 24-inches-deep precisely, with a perfectly 12-by-12 solid packed floor," he said. "Note 100% perfect circle cut into the earth."
"Not one drop of soil anywhere around the surface or on the perfectly same circle hard-packed floor," he said. "You can see rocks cut off, roots perfectly sheared on the hard-packed cylindrical walls. A perfectly round hole that absolutely showed up overnight!"
Brown plans an investigation into the origins of the mystery hole.
Lead Stories' Trendolizer constantly scours social networks for the hottest trending mysteries. Scroll down to see the latest.